Women are robbed of their liberty to create, flourish and act the way they want to or the way they deserve. Their freedom and rights have been stolen from them and no one tends to pay any attention towards it because they say 'they are only women'. I say, "No, they are not only women, they are the foundations of human existence, they are the sun and the ambition that can't be dimmed." Societies around the world tend to criticize and mock women at every step of their life whether it is social, educational, physical, personal or psychological.
We don't realize that by doing this we are killing humanity by our own hands. Women rights are not just a fight for a gender, it is a combat for human rights that is well and equally deserved in every corner of the world. In many societies globally it is often forgotten to consider women as humans, they are merely dealt with as objects of pleasure, desire and assault and are treated like animals. Places like these are worse than hell for all women.
The Pearl That Broke Its Shell is a book that has made me aware and conscious of topics that need to be spoken about. This book is that kind of a book whose every little scene is vividly ever present in the theater of your brain to be stored in the infinite threads of memory, time and space, this is a book that has connected me with my soul.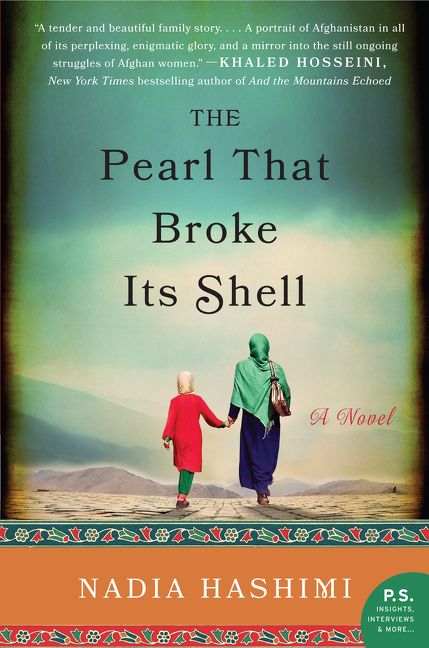 Dealing with the ever-present difficulties that Afghan women face and the callous way in which they are treated like animals, Nadia Hashimi has written a piece of great literature and art that brings strength to every woman who reads it and brings awareness to every man. This is nonetheless a book to be read and experienced by every soul as long as it exists.
During the course of the entire book there are words that move you, characters that metamorphose you, courage and ambition that astounds you, difficulties that depress you, antagonists that make your blood boil and most of all the strength that empowers you.
The Author, Plot and More Information
The Pearl That Broke Its Shell is a novel written by Nadia Hashimi. Most of the information in the coming paragraphs is taken from the author bio and the interview in the book itself. This is her debut novel and was released in May 2014. Nadia Hashimi was born and brought up in New York and New Jersey. However both of her parents were born in Afghanistan and they left in the 1970s before the Soviet Invasion of Afghanistan. She was fortunate to grow up with many of her immediate and extended family allowing the Afghan culture to retain in her roots.
Nadia Hashimi attended Brandeis University where she obtained degrees in Middle Eastern studies and biology. She even enrolled in a medical school in Brooklyn and was ever-present in the Afghan-American Community organization. After her graduation from medical school she went on to NYU/Bellevue hospitals in New York City to complete her pediatric training. After then she moved to Maryland with her husband where she currently works as a pediatrician.
In 2002 she visited Afghanistan with her parents for the first time and it was a bittersweet experience as she says. She currently lives with her husband, three children and an African gray parrot.
Here's a list of novels written by Nadia Hashimi:
The Pearl That Broke Its Shell
When the Moon Is Low
One Half from the East
A House Without Windows
The Sky At Our Feet
The main plot of The Pearl That Broke Its Shell revolves around an Afghan family consisting of daughters and no son and thus the troubles that each one of those women have to face are dealt with throughout the course of the book. Rahima is one of the daughters of this Afghan family who is in an incessant race or marathon in her life trying to continue the legacy of her great-great grandmother, Shekiba who was a bacha posh. A bacha posh is basically a girl who is changed into a boy before she becomes a woman after her monthly periods start. Thus following in the footsteps of her great-great grandmother Rahima is made a bacha posh to fulfill the family's needs.
The endless troubles and the inevitably unfortunate future awaiting the daughters of this Afghan family as well as the story of Bibi Shekiba are mentioned back and forth in various chapters, with the plot continually leaping from the present to the past and back to the present. As the heart-breaking stories of two legacies entwine a book of immense depth and awareness is formed. It is truly a piece of intricate art in the 21st Century which brings you to tears apprehending the inhumanity and insanity of the world.
The main characters of the novel include:
Rahima
Bibi Shekiba
Khala Shaima
"But times change. Everything changes. Birds fly away, one by one."

– Nadia Hashimi, The Pearl That Broke Its Shell
My Review and Experience Regarding The Book
The Pearl That Broke Its Shell has moved me to infinite levels of emotions that are unparalleled by any book I've ever read. As a woman reading this book it has made me realize that there are those similar to me around the globe that go through inhumane circumstances every day. There were times at which I would cry for nights upon reading a few pages just because of the depth they carried and the circumstances they presented.
This book has provided me with boundless knowledge on causes I support and care about be it Gender equality, women's rights, human rights, feminism, sexism, rape and sexual assault. It has brought to light my ambition and strength as a woman in the society. I appreciate the fact that books like these are spreading awareness regarding topics and causes that seriously need to be dealt with and talked about. Briefly it is the epitome of topics that are titled taboo in the society and thus plots like these are breaking free from their leash.
With the help of this awareness it can lead to help for people who suffer in these circumstances and are being treated inhumanely. Thus all of these various aspects widen your perspectives, beliefs and the way you view the world. It enhances your school of thought. And there are hundreds of other books written on similar topics because in the 21st Century we can't afford to be taboo about things like rape, sexism, gender inequality and the deprivation of human rights. It is time we uplift feminism in its true words and bring an end to misogyny and male chauvinism.
The plot of the book is pretty good and it deals with the various topics of gender inequality in a comprehensive manner. Although the main gist of the novel is feminism and the truth of misogyny, there isn't a singular aspect to it instead there are multiple. However I would like if the book would also deal with the solutions to these grave problems and difficulties and not just spread awareness about them. The characters are skilfully built up step by step and as a reader you learn to grow with them. Characters like Rahima and Shekiba are characters that you don't forget till the end of life and they remain a part of you incessantly.
This book is an excellent example of how even in this Century there are still parts of the world that remain male-dominant and the difficulties faced by women in such societies. This book definitely discusses taboo topics that shouldn't be taboo at all and that should be shed light into.
My Favorite Lines From the Book
Here are a few lines from the book The Pearl That Broke Its Shell by Nadia Hashimi that have stayed with me:
(P.S. All of these quotes/lines ARE from The Pearl That Broke Its Shell and they are written by Nadia Hashimi, I was just too lazy to write it besides every line.)
"The human spirit, you know what they say about the human spirit? Is is harder than a rock and more delicate than a flower petal."
"When things are rough, people look for an escape. A way out."
"This life is difficult. We lose fathers, brothers, mothers, songbirds and pieces of ourselves. Whips strike the innocent, honors go to the guilty, and there is too much loneliness. I would be a fool to pray for my children to escape all of that. Ask for too much and it might actually turn out worse. But I can pray for small things, like fertile fields, a mother's love, a child's smile—a life that's less bitter than sweet."
"Life has typhoons. They come and turn everything upside down. But you still have to stand up because the next storm may be around the corner."
"But understand that there are many people willing to make your life more difficult. It is up to you to find a way to make things easier for yourself."
"But times change. Everything changes. Birds fly away, one by one."
"That is the problem with gifts, Madar-jan. They are always given away."
"The hell with naseeb. Naseeb is what people blame for every thing they can't fix."

– By Nadia Hashimi from her book The Pearl That Broke Its Shell

P.S. For those who don't know what Naseeb is, it means 'destiny' but usually referred towards the difficulties of life and situations that are generally not in the hands of the individual.