Each one of us has had a dream to travel into the wild unknown, to experience something that we've never felt before be it a feeling, a sentiment or an apprehension. Whenever I travel I always take a book or two with me because if I don't read something in a day I feel incomplete. Each book takes you on a journey to a new void, a new era. Either the journey is gay or monotonous, a journey is a journey and the ever-present reward is the set of things you learn and experience, a list that is added to your wholeness forever.
Aleph has been like a journey that I could never have made without it, without its words and without its presence with me all the time. It was a book that had to be felt more than read but then again you can only feel once you've read enough. If I had to summarise this book in an action it would be like looking up into the skies and sighing the previous 2 years of my life. I had never expected this book to escalate to such a personal level so quickly and hastily and soon before I realized it, Aleph became that cup of coffee that I had to take in the morning, in the afternoon and at night.
This book has changed a lot in my personality. It altered the way I looked at things and answered so many of my questions about life and how it is supposed to be. It affected me on a spiritual level and a very few books have the ability to do that in fact by its description itself this book is meant to change lives for the better. Honestly this was a recommendation from my highly respected and honored English teacher who has made me learn so much about this art and I am grateful to her for that.
Aleph is an experience that everyone who wants to look differently out of the same windows should embark on. It is like a new adventure in a void you are not familiar with. The fact that it is very beautifully written and every little detail touches you makes this a book worthy for people who are searching for new and different genres to try. Especially for people who believe that apart from the physical body there is a spiritual plane that drives our soul, this book is perfect for those people. However before I express the expression of this art let's get down to the author, the plot and the characters.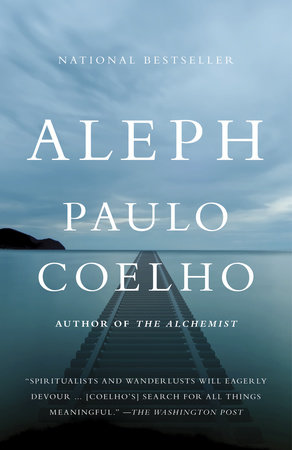 The Author, Plot and More Information
Aleph was written by the Brazilian writer Paulo Coelho in his native language Portuguese and published in 2010. It was later translated into English by Margaret Jull Costa. According to his author's bio in his book, "Paulo Coelho is a Brazilian novelist and the author of many bestsellers including The Alchemist, Eleven Minutes and The Pilgrimage. He lives in Rio de Janeiro in Brazil. His books have sold more than 130 million copies in 160 countries and have been translated into 72 different languages. In 2007 he was named a United Nations Messenger of Peace."
This was the first book I read of Paulo Coelho and after this tranquil experience I am surely up for more of his beautiful artworks. Here is a list of his well-known books:
The Alchemist
Eleven Minutes
The Spy
Frases
The Pilgrimage
Adultery
Veronika Decides to Die
The Zahir
Aleph
Brida
Warrior of the Light
By the River Piedra I Sat Down and Wept
Hippie
The Winner Stands Alone
The Fifth Mountain
The Valkyries
The Witch of Portobello
Manuscript Found in Accra
The Devil and Miss Prym
Like the Flowing River
The Supreme Gift
Maktub
Journeys
I haven't told you yet but Aleph is actually an autobiography of Paulo Coelho regarding his travel through the Trans-Siberian Railway through Africa, Europe and Asia. It is about his experiences during that journey and how he met a girl named Hilal and how she influenced his life. Lessons he has learned throughout his travel and the journey of his life and also how his life progresses and his pattern of living. But the fact that probably a lot of people can relate to his life is astounding because when you read an autobiography or a biography you know you are reading the life of another but how similar you feel while reading it and how many things you can actually relate to.
The plot of the book is basically about Paulo Coelho travelling through the Trans-Siberian Railway to find himself again as he tips to pessimism and to find his optimism and be himself again he embarks to rewrite his destiny. He explores the lines of existence and life. He is accompanied by his publisher, editor, editor's wife, translator and a girl named Hilal. Now many of you might ask what is 'Aleph'. Aleph is a word that stands for a feeling or a situation that contains every other situation or feeling. For example a number that contains every other number, that is Aleph. A feeling or a sentiment that contains every other sentiment, that is Aleph. Aleph is a point or a sight where everything becomes one, single. Aleph means one that contains every other thing, a point where the past, present and the future becomes one.
The main characters in Aleph are:
The author/the narrator
Hilal
Yao
The author's editor
The author's editor's wife
The author's publisher
My Review and Experience Regarding The Book
Aleph was a book that I was looking forward to for a long time because the moment I was informed about its plot, all I could do was to think about reading it but unfortunately every time I used to go to the library or the book store, they never used to have this book. I was furious like any other vigorous reader and some might even say that I could have got a copy online but sorry I am not an E-book or an audiobook person. Anyways in the summer break I finally got my hands on this specific book of Paulo Coelho and I felt pure joy rushing through my veins and after that I finally decided that I will take this book along with me during my travel this summer.
The travelling is a story for another time, now I am going to tell you how and what I actually felt while reading this book. When I started reading it, there was this endless relation of mine with this book partially because I could relate to the author who was also the narrator of the book. The reason why I bought it in the first place was because I felt as if mine and the book's aim was similar and we were both reaching for the same conclusion, 'rewriting our destiny'.
I was always an inquisitive child, looking for answers to questions I shouldn't have asked in the first place. Aleph was the book that answered the majority of those questions and surprisingly I apprehended that I already knew many of those answers, I just had to believe and accept them. Here's are 30 things I learned from this book:
It's OKAY to jump back and forth between optimism and pessimism.
Believe in yourself.
Dreams and dreamers cannot be tamed.
"Sometimes you need to travel far away to find what is near."
Aleph is that which contains everything, singularity and solidarity.
Being  more accepting towards other cultures, traditions and religions.
How to feel and strengthen each and every particle of energy or qi in your body.
How to become the King of your Kingdom.
The Importance of travelling.
Death doesn't depart us from our loved ones.
The Path of Peace
You'll only learn when you'll fall.
Believe when no one else believes in you.
Become the one energy that contains your past, present and future at the same time.
"You can move a town but you cannot move a well."
How humans tend to materialize and industrialize every place and everything lessening its actual nature and charm.
"A life without a cause is a life without effect."
To know a town or a place all you need to do is to take a walk along its streets.
Don't look at places, feel them.
How the fear of fear controls us.
How one number, place or a digit can become meaningful through experience.
"What hurts us is what heals us."
You cannot cure despair when it comforts someone.
"Only two things can reveal life's great secrets: suffering and love."
"If I believe I will win, then victory will believe in me."
"Anyone who can describe God does not know Him. Anyone who knows God cannot describe Him."
"If you want to see a rainbow you have to learn to see the rain."
"Is it possible to avoid pain? Yes, but you'll never learn anything. Is it possible to know something without ever having experiencing it? Yes, but it will never truly be part of you."
"Words are tears that have been written down. Tears are words that need to be shed. Without them, joy loses all its brilliance and sadness has no end."
"To live is to experience things, not sit around pondering the meaning of life."
I think these 30 things already speak for themself and I hope I don't have to elaborate on each one of them because if I do this blog will turn into a brief book and many people will lose interest. Instead I will leave these things to have their unique effects on your brain and imagination and let my words and the words of the book speak for themselves. However there are still a few more tenets that I would like to highlight.
I greatly appreciate the frankness of the author/narrator and the fact that he was not afraid to mention anything regarding his pessimism or his drawback because I know that not a lot of people are comfortable talking or writing about it. However Paulo Coelho did use his shackles to form swords and came out with a heart warming book one that shows us how to shape rocks thrown at us into weapons that we can use to fight. I also liked the fact that apart from himself there is no scarcity for the feelings and characters of people surrounding him. Each and every person around him has an evident personality and story behind them which gives the reader a taste of everything and everyone surrounding the author/narrator.
It was joyful to see how the author used to focus on one statement and used to form or state a whole incident or an entire chapter on that and when we see the whole book together, all of those statements, chapters and situations conform with one another creating a literary artwork that shall contain the roots of existence for a long time. Another great quality of this book is that you can't seem to put it down even though it is not a suspense thriller. Everyday during my travel when I did not get the time to read the book I actually used to feel sad that I was unable to read it.
Now this a suggestion that I give, if you are planning to go for travelling this is a great travel book. It is not that physically big and it will not take you a lot of time to read it because it's like 270+ pages or something. Trust me it is a really interesting travel book and you will feel as if you are connecting with every place you go and everything you see and experience to find your true self.
My Favourite Lines From the Book
Here are a few lines from the book Aleph by Paulo Coelho that have stayed with me:
(P.S. All of these quotes/lines ARE from Aleph and they are written by Paulo Coelho, I was just too lazy to write it besides every line.)
"You can move a town but you cannot move a well."
"Sometimes you need to travel far away to find what is near."
"Dreamers cannot be tamed."
"It takes a huge effort to free yourself from memory."
"Travel is never a matter of money but of courage."
"Love is just a word until someone comes along and gives it meaning."
"What hurts us is what heals us."
"Only two things can reveal life's great secrets: suffering and love."
"In magic – and in life – there is only the present moment, the now. You can't measure time the way you measure the distance between two points. 'Time' doesn't pass. We human beings have enormous difficulty in focusing on the present; we're always thinking about what we did, about how we could have done it better, about the consequences of our actions, and about why we didn't act as we should have. Or else we think about the future, about what we're going to do tomorrow, what precautions we should take, what dangers await us around the next corner, how to avoid what we don't want and how to get what we have always dreamed of."
"If I believe I will win, then victory will believe in me."
"Anyone who can describe God does not know Him. Anyone who knows God cannot describe Him."
"Is it possible to avoid pain? Yes, but you'll never learn anything. Is it possible to know something without ever having experiencing it? Yes, but it will never truly be part of you."
"A life without a cause is a life without effect."
"If you want to see a rainbow you have to learn to see the rain."
"It's what you do in the present that will redeem the past and thereby change the future."
"To live is to experience things, not sit around pondering the meaning of life."

"You don't need to climb a mountain to know that it's high."
"Words are tears that have been written down. Tears are words that need to be shed. Without them, joy loses all its brilliance and sadness has no end."

– Paulo Coelho from Aleph